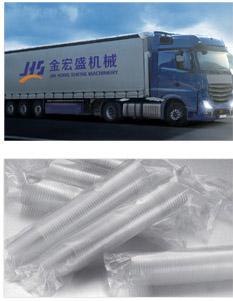 Shantou Jinhongsheng Machinery Co.,Ltd. is a professional plastic machine production company which contains research、manufacture、sales and sales services . We apply ourselves to create extraordinary and practical plastic machine and offer warm service , providing our superior value for all of cooperators.
Our company has a long history of more than 10 years on research and development , produce plastic machines. Our products include Plastic Sheet Extruder ,Thermoforming Machine , Packaging Machine and various kinds of moulds, all of them have high quality and novel appearance. Our products are popular in many provinces and cities , And we are looking forward to establish a long excellent corporative partner relationship with Venezuela , Brazil , Chile of South America ; South Africa ,Morocco of Africa ; Iran , Saudi Arabia of Middle East of area ; the Philippines , Thailand ,Indonesia, Malaysia of Southeast Asia ; India and so on.
Our company always regards customer benefits as important ,and go beyond ourself constantly. We take GB/T 19001-2008 Quality System in managing our products .
In order to enhance clients' use value ,we will keep on making great efforts . With better service quality ,we are able to supply superior manufacturing facilities to customers and gain their acknowledgements.
After years of research, experiments and production tests, the main products we developed as follows:
*

PET Twin Screw Plastic Extruder

*

HYC-900 Thermoforming Auto Cup Making Production line

*

HYC-850 Thermoforming Auto Plate Making Production line

*

HPC-800 Plastic Sheet Extruder

*

HPC-660-1400 Series Plastic Sheet Extruder

*

HDPC Series Plastic Sheet Extruder

*

HYC-720 Automatic Hydraulic Cup Making Machine

*

HYC-660 Automatic Hydraulic Cup Making Machine

*

Automatic Cup Stacking Machine

*

High Speed Cup Printing Machine

*

FS Series Powerful Crusher

*

Related Mould